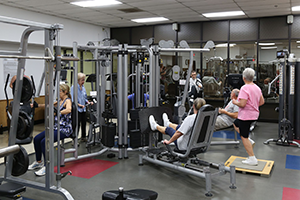 Current COVID-19 Guidelines
The Fitness Center will be open 6 a.m.-7 p.m. Monday-Friday and Saturday 8am-1pm. Some classes will also be available. To enhance social distancing, fitness equipment has been relocated, classes will be held in the gymnasium, and limits are in place on the number of users and participants. Additional requirements include:
• In order to comply with State guidance, reservations are required to use the Fitness Center and attend classes. Reservations may be made beginning May 11 online at CLICK HERE OR by phone at 865-453-5441. Non-members can pay fees online or upon arrival. (All current memberships have been extended for two months at no charge.) When making a reservation, persons will be asked several questions regarding COVID-19 symptoms;
• Visitors will be limited to one hour or one class per visit;
• Visitors will be required to pass through a body temperature sensor upon arrival. Those with a body temperature of above 100.4 will not be permitted entry;
• Visitors will be required to sanitize their hands upon arrival and departure;
• Social distancing measures will be in place and maintained. Only persons 13 years old or older will be permitted in the Fitness Center and classes.
The Fitness Center has something for everyone-cardio equipment including stationary bicycles, treadmills, and ellipticals; multi-station and single station weight training machines; free weights; and a dedicated aerobics exercise room.
There is something for everyone at the Sevierville Fitness Center. All age groups, and fitness levels can find something for their needs here.