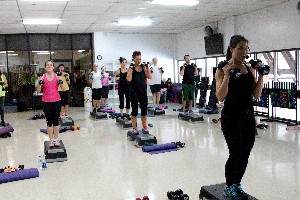 Current COVID-19 Guidelines
In order to comply with State guidance, reservations are required to use the Fitness Center and attend classes. Reservations may be made online at CLICK HERE OR by phone at 865-453-5441. Non-members can pay fees online or upon arrival. (All current memberships have been extended for two months at no charge.) When making a reservation, persons will be asked several questions regarding COVID-19 symptoms;

• Visitors will be required to pass through a body temperature sensor upon arrival. Those with a body temperature of above 100.4 will not be permitted entry;
• Visitors will be required to sanitize their hands upon arrival and departure;
• Social distancing measures will be in place and maintained; and
• Only persons 18 years old or older will be permitted in the Fitness Center and classes.
The Sevierville Fitness Center offers classes to fit every fitness level. Choose from water aerobics, toning classes, cycling classes, yoga and more.
Sevierville Community Center - Workout Classes - YouTube Playlist