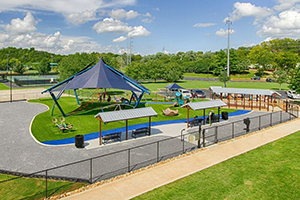 Current COVID-19 Guidelines
Alll baseball and softball fields located at Sevierville City Park and Northview Optimist Park have reopened. Tennessee Governor Bill Lee's latest executive order allows for the reopening of these areas while recommending that users continue to practice social distancing and personal hygiene.
All outdoor facilities are open; including Playgrounds. Signs as per CDC will be posted at each Playground.
Greenway System • Open Regular Hours with proper social distancing encouraged PetSafe Dog Park @ City Park: • One- hour limit per person per pet for each area (large and small dogs)/social distancing encourage
"Being able to enjoy outdoor activities is especially valuable as we continue to endure the COVID-19 pandemic," said Parks and Recreation Director Bob Parker. "We stress the importance of complying with guidance from the CDC and State when engaging in recreational activities, so that we can continue to slow the spread of this virus."
For more information from the City regarding the COVID-19 pandemic, visit www.seviervilletn.org and click on the COVID-19 information link on the home page.
No summer is complete without visiting the Sevierville City Park. There is so much to do including lunch in the park, play time at Mt. Ton of Fun, and cooling off at the Family Aquatic Center. And with all the other amenities—tennis, basketball, playground, walking trail and picnic shelters, to name a few—you'll find it the best place to spend those long days of summer vacation! Did you know that we offer group rentals, swim parties, and covered pavilion rentals? Visit our Park Pavilion & Gazebo Rentals page or call 865-453-5441 to make reservations.
The Parks and Recreation Department maintains several parks located throughout the City and a growing greenway system. The parks range in size and amenities. For information on a park or the greenway system, please call 865-453-5441.