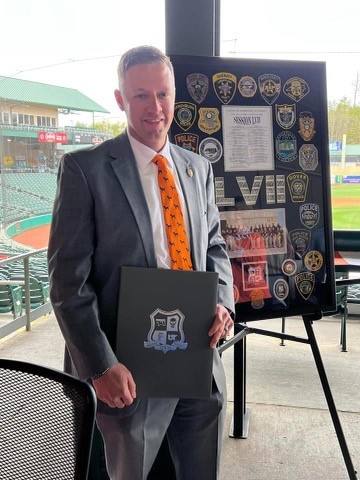 Posted 04-29-22.
On March 18, 2022, Sevierville Police Department Detective Sergeant Graham Brantley graduated in Class 57 from the National Forensics Academy in Knoxville, Tennessee.
The National Forensic Academy (NFA) is an intensive 10-week training program designed to meet the needs of law enforcement agencies in evidence identification, collection, and preservation. There are 400 hours of training per session; 170 hours of in-class work, and 230 hours of field practicum.
"The NFA is an internationally recognized program that provides outstanding training for investigators," SPD Chief Joseph Manning said. "As both an investigator and supervisor in our department, Detective Sergeant Brantley will be able to apply this training daily to help our community."
The NFA is offered in-residence, utilizing curriculum developed by leading forensic practitioners from across the United States. Participants are challenged in the various disciplines through classroom instruction, lab activities, and field practicums in the specialized courses. Academy participants complete written and in-class competency exams to demonstrate mastery of the subject areas. The goal of the Academy is to prepare the crime scene investigator to recognize key elements and to improve the process of evidence recovery and submission.
After completing 400 hours of coursework, NFA graduates also receive certificates in Bloodstain Pattern Analysis and Shooting Incident Reconstruction. NFA is recognized by the International Association for Identification, the largest forensic organization in the world, as providing the necessary training required for crime scene certification.