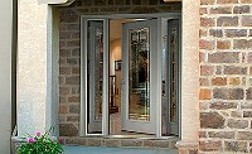 The City's project design standards assure that each lot can be reached by an easily traveled street and has utilities available to support the needs of residents. The planning staff also coordinates the plat review process whenever a division of a lot or a combination or two or more lots is proposed in an existing neighborhood.
The documents available on this page provide information to assist in identifying zoning designations suitable for residential use, and the process to follow when designing a new neighborhood or home site.
Please contact the planning staff with questions or concerns about the residential development process.
For Commercial developments, the city also reviews the proposed site plan to ensure each new place of business has adequate space for its needs, such as parking, utilities, and dealing with storm water and connection to the public streets. Simple site plans that do not require new public infrastructure are reviewed by the staff. All new site plans that do require new connections to the roads and utilities are reviewed by the Planning Commission which meets monthly.
The deadline for review of projects that need to go to the Planning Commission is 28 days in advance of the meeting. This gives staff adequate time to review the plans and have any corrections made before the meeting.
For more complete documentation on what is required to submit either a site plan or a subdivision plan, please reference the Development Guidelines found on this site.