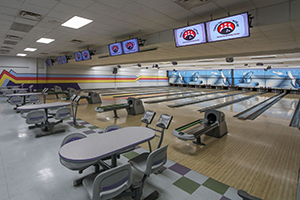 Current COVID-19 Guidlines for Bowling Center
The Bowling Center will be open 11 a.m.-6 p.m. Monday-Friday. Requirements include:
• Reservations are encouraged and can be made by calling 865-868-1874 beginning May 11;
• Persons under 18-years old must be accompanied by an adult;
• Bowlers will be limited to one hour per visit;
• Only five lanes will be open to comply with social distancing guidelines;
• All bowlers must provide and wear a cloth mask; and
• Bowling ball selection will be limited. Bowlers are encouraged to bring a personal bowling ball if available.
Located within the Sevierville Community Center, the Sevierville Bowling Center has 10 Bowling Lanes with the latest equipment on the market! The bowling machines are GSX Nex-Gen Brunswick. The scoring is automatic frameworks and has many different graphics that enhance your bowling experience. It even shows you how to pick up your spare shots! We also have a state of the art cosmic lighting and music package!