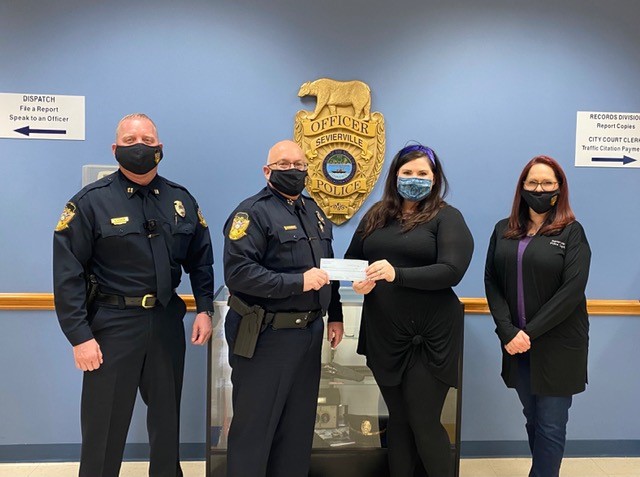 Posted 02-12-21.
The Sevierville Police Department participates annually in No Shave November to raise cancer awareness in our community. In 2020, the department extended the program to include the months of October and November (see program details below).
In 2020, SPD officers and staff were able to raise $2,200.00, which was then presented to Kayla Shelby from the American Cancer Society. The donation was made in honor of Kelly DeBord, who was the Sevierville Marketing Director and passed away last year after a long battle with cancer.
"We are proud to be able to present this donation to the American Cancer Society," said SPD Chief Joseph Manning. "All of us have loved ones and friends who have been affected by cancer. We hope this donation will help raise cancer awareness, save lives, and aid those who are fighting this terrible disease."
_________________________________________________
From media release 10-02-20.
The City of Sevierville Police Department is participating in national "No-Shave November." And this year, the program will be extended to include October as well. This marks the third year that the SPD has participated in the national program.

The goal of No-Shave November is to grow cancer awareness by embracing our hair, which many cancer patients lose, and letting it grow. Employees who choose to participate will pay $25.00 per month and the money raised will be donated to a cancer program selected by the department. This year we will be donating all the money collected by the department in Kelly DeBord' s honor. For those who did not know Kelly, she was the Sevierville Marketing Director who recently passed away after a long battle with cancer. Kelly was a huge fan of the police department and worked closely with SPD Lt. Cowan and others on Relay for Life.
PHOTO, left to right: SPD Captain Sam Hinson, SPD Chief Joseph Manning, ACS Representative Kayla Shelby, SPD Administrative Assistant Barbara Parrish.