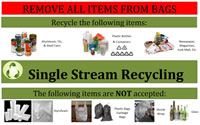 (Click Above Image to open Information PDF)
Single stream recycling containers are located at the City's Public Works Department 310 Robert Henderson Rd. (under video surveillance)
Glass, Styrofoam, Shrink Wrap, & Plastic Bags are NOT accepted.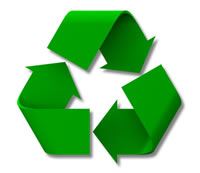 Recycling containers are clearly marked with items the recycler will take. The following items should be removed from bags before placing in containers:
Cardboard
Newspaper, Magazines, Junk Mail, Office Paper, etc.
Aluminum/Tin/Steel Cans
Plastic Bottles & Containers
The following Items are not accepted by the recycler and when mixed with recyclable materials can cause the whole container to be taken to the landfill:
Household Garbage
Used Diapers
Food Waste (includes fresh vegetables)
Glass
Plastic Bags
Styrofoam/Styrofoam Containers
Wood
Metal
Clothing/Bedding
Shrink Wrap
Plastic Sheeting
Electronics (TV's & computers)
Recycling locations are not to be used for dropping off household garbage, junk, TV's, or yard waste. Groups or individuals caught dumping garbage or non-recyclable items could face a $500 illegal dumping fine and associated court costs.
For more information regarding recycling contact Public Works at 429-4567.