The City of Sevierville Fire Department (SFD) provides Child Car Safety Seat Inspections free of charge throughout the year.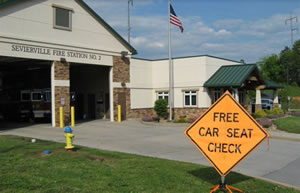 Nationally, over 90% of child car safety seats are improperly installed. In fact, over 40% of child fatalities in traffic accidents are due to improperly installed child car safety seats. The Sevierville Fire Department has certified technicians available to perform inspections of your child's seat, demonstrate proper installation techniques, and offer general assistance.
Many child car safety seats are no longer safe due to past accidents, the age of the seat, manufacturer recalls or missing parts.
Please join the Sevierville Fire Department in this effort to keep our children as safe as possible while riding in a car.