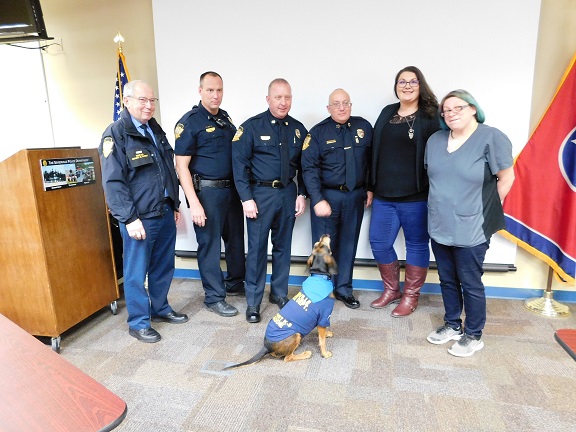 Posted 01-10-20.


Maddie officially became a member of the SPD family this afternoon. She held her first press conference at 1400 hours in the SPD Training Room, surrounded by reporters and well-wishers.
The SPD wants to thank Sevier Animal Care Center Director Ashley Thomas for her support of our adoption, and Lynn at Clip N Dip in Sevierville for keeping Maddie clean and pretty! And Maddie wants to give a big bark to Chick-fil-A in Sevierville for supplying chicken nuggets at the press conference.
________________________________________________________________________________________
For Immediate Release: January 7, 2020
Contact: Bob Stahlke, Professional Services and Public Information Officer
City of Sevierville
(Office) 865-868-1695 (Cell) 865-755-4914 This email address is being protected from spambots. You need JavaScript enabled to view it.
What: Police Department Adopts Canine After Fostering
Where: Sevierville Police Department, 300 Gary Wade Blvd.
When: Friday, January 10, 2020
For the past several weeks, dispatchers, officers and staff have been fostering Maddie, a hound mix from the Sevier Animal Care Center, in hopes that someone would adopt her. It's the second canine that the department has fostered.
But now Maddie will become the newest member of the SPD family, as they have decided to formally adopt her.
"It seems Maddie has won over the hearts of everyone here," said SPD Chief Joseph Manning. "She wanders the halls and offices, eagerly visiting each of us throughout the day. We're so glad she has a permanent home with us."
Several employees have noted that Maddie seems to help reduce the stress that dispatchers, officers and others at the department often feel.
SPD employees and Sevier Animal Care Center Director Ashley Thomas will get together at the Police Department Friday afternoon, January 10, at 2:00 p.m. to take photos and celebrate Maddie's adoption. Media and the public are invited to attend.
About Sevier Animal Care Center (www.sevieranimalcarecenter.com)(865-465-6300)(This email address is being protected from spambots. You need JavaScript enabled to view it.):
Sevier Animal Care Center is a non-profit government run animal shelter located at 1040 Dolly Parton Parkway in Sevierville, Tennessee that serves the animal control needs of Sevier County, Sevierville, Pittman Center, Pigeon Forge, and Gatlinburg. Our mission is to reunite lost pets with their owners and match homeless pets with a loving family. Our community's support is our most important asset, and everyone is welcome to come visit. Please consider helping our animals through adoption, volunteering, fostering, donating, and/or advocating for us.